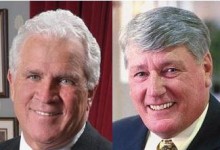 2016 HB 84 and SB 116, sponsored by President Miller and Speaker Busch, propose, in part, to reduce the frequency of some government fund audits.  This legislation at the request of the Department of Legislative Services' (DLS) Office of Legislative Audits (OLA)..
Changes include:
The Fund [shall be audited annually] IS SUBJECT TO AUDIT by the Legislative Auditor [in the manner prescribed by law] AS PROVIDED IN § 2–1220 OF THE STATE GOVERNMENT ARTICLE.
Article § 2–1220 states, in part, "At least once every 3 years, the Office of Legislative Audits shall conduct a fiscal/compliance audit of each unit of the State government, except for units in the Legislative Branch."  The proposed changes may reduce audit frequency from every year to every three years, depending on the OLA's criteria.  There are many funds to which this applies.
This bill repeals a requirement for OLA to audit certain offices and agencies.  Also included in the bill is that OLA does not need to approve independent auditors for certain audits.
The full scope of this legislation is beyond this post.  Please read the bill for detailed information.
Send email to the

House Appropriations Committee
(Click the send email icon now to pre-populate all the committee members' email addresses in your default email client.)
Send email to the

Senate Budget and Taxation Committee
(Click the send email icon now to pre-populate all the committee members' email addresses in your default email client.)