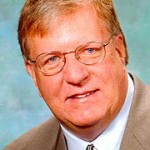 SB 387, sponsored by Senator Reilly, proposes to add the choice for an "enhanced" driver license, ID card, or moped operator's permit with a biometric identifier.
(II) "BIOMETRIC IDENTIFIER" INCLUDES:
1. FINGERPRINTS;
2. AN IMAGE OR ANY OTHER IDENTIFIER THAT WOULD ALLOW THE APPLICATION OF:

A. FACE RECOGNITION TECHNOLOGY; OR
B. IRIS RECOGNITION TECHNOLOGY;

3. DEOXYRIBONUCLEIC ACID (DNA); AND
4. A PALM PRINT.
This was entered as an emergency bill.
This, "enhanced identification document" will have a memory and microprocessor chip to store one or more biometric identifiers.  In this bill, the, "upgrade" is voluntary and the increased cost is paid by the purchaser.
Privacy concerns about with not only the biometric identifiers but the embedded chip.  Since this enhanced document will have to meet the standard of the Federal Western Hemisphere Travel Initiative (WHTI), it must have a Radio Frequency Identification (RFID) chip.  RFID chips can be tracked and read from a distance and even the federal General Accounting Office (GAO) cautioned against the use of RFID:
In Congressional testimony in March 2007, a GAO official cautioned against the use of RFID technology to track individuals. "Once a particular individual is identified through an RFID tag, personally identifiable information can be retrieved from any number of sources and then aggregated to develop a profile of the individual. Both tracking and profiling can compromise an individual's privacy," the GAO said. The GAO reiterated the many problems with the failed US-VISIT RFID project and expressed concern that, despite this failure, DHS endorsed the use of RFID in the WHTI passport card.
Only four states offer, "enhanced identification documents".  Giving biometrics to the government is not popular.
Maryland has driver licenses/ID cards already.  These, "enhanced" cards are designed to be in line with a federal program, essentially rendering this a federal ID.
Send email to the

Senate Judicial Proceedings Committee
(Click the send email icon now to pre-populate all the committee members' email addresses in your default email client.)